How to Host a Successful "Open Book Party"
An "Open Book Party" (OBP) is an easy, relaxed way for you to help WSP by raising awareness of and support for the program while having fun with people you like!   Parties are typically a couple of hours in duration.  After everyone has arrived and had a chance to meet, mix, and mingle, a representative of WSP will talk for about 10-15 minutes about what we do and why.  Next,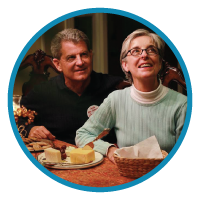 we'll show a seven-minute video that captures and conveys the power of the program (https://vimeo.com/115048450).  Afterwards, the WSP Representative will give closing remarks and answer any questions.  We'll distribute response cards for your guests to complete before they leave indicating whether and how they wish to support WSP.  There is absolutely NO PRESSURE for people to commit; but we find that most people do!  And while promoting awareness of WSP is the reason for the party, there is still plenty of time for people to simply enjoy visiting with each other. It's a win-win!
Here are eight simple steps to hosting an Open Book Party:
Decide to have a party!  If you don't especially enjoy entertaining, consider co-hosting with a friend who does.  Invite your friends, your family, your neighbors, your work colleagues, your Bible study group, your Sunday school class, your book or wine club…in other words, any set of people you think would have fun spending some unstructured time together.  This could be a couples party, men only, women only, entire families…you choose!
Determine the format you'd enjoy most:  breakfast tacos and coffee, wine and cheese, cocktails and appetizers, poolside BBQ, costume party with favorite book characters?  Use your imagination!
Review your calendar for two or three dates and times that work for you and fit your party format:  we suggest Thursday evenings 5-7p, or Sunday afternoons 1-3p, 2-4p, 3-5p, or 4-6p.  If those don't work for you, of course you may choose what does.  Please allow about one month's lead time for planning and preparations.
Contact WSP by e-mailing info@storybookproject.org to let us know you wish to host an OBP.  Our OBP Coordinator will contact you to discuss details, answer questions, and coordinate plans to send one or more WSP Representatives to the event.
Make your guest list.  We suggest you invite 40-50 people; from that number, you can expect 20-25 to attend.
Send your invitations at least three weeks in advance.  We recommend using on-line invitation services like eVite or Punchbowl.  Our OBP Coordinator will provide you examples and suggested text to include in your invitation.
Prepare for your party!  On the day of the event, our WSP Representative(s) will arrive one hour in advance to help with set-up.
Have your party and enjoy yourself with your friends!