The readings allow the mothers to be in service to their children. They are the only people who can do this very important work.
—Volunteer
A Women's Storybook Project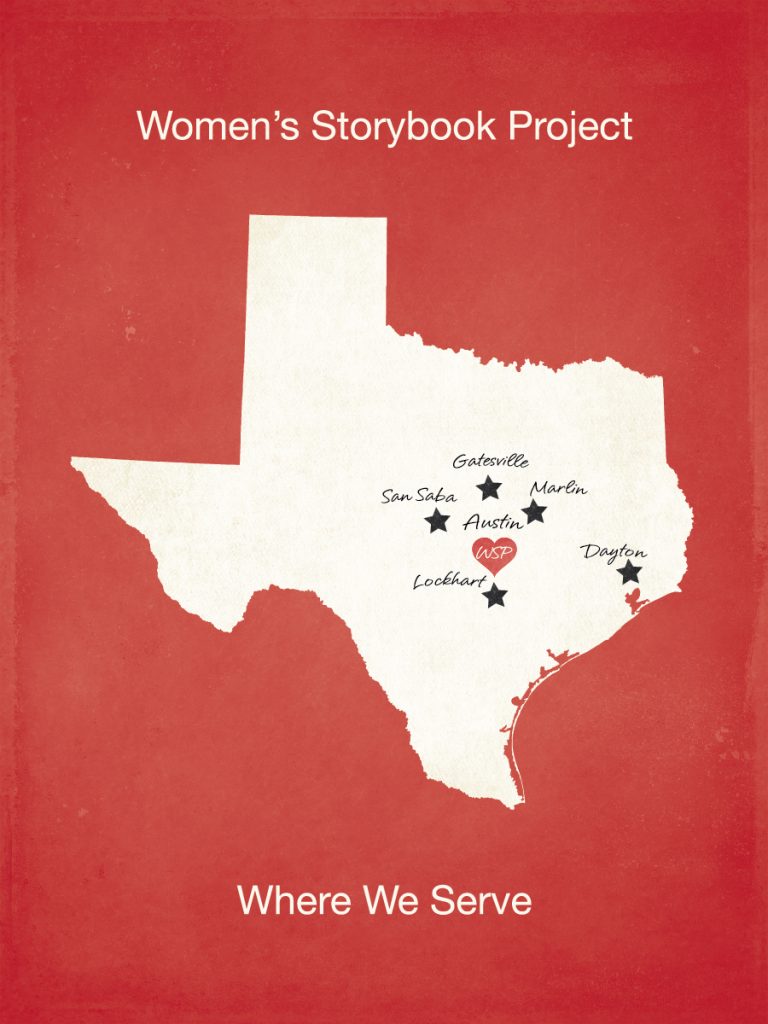 1.Henley State Jail (Dayton)
2.Hilltop Unit (Gatesville)
3. William B. Hobby Unit (Marlin)
4. Lane Murray Unit (Gatesville)
5. Mountain View Unit (Gatesville)
6. Lockhart (Private Facility) (Lockhart)
7. Lucille Plane State Jail (Dayton)
8. San Saba (Transfer Unit) (San Saba)
9. Woodman Unit (Gatesville)
We are planning on working to get the Halbert Unit in Burnet open in the Spring of 2019. 
August 2016 – After a suggestion from one of our volunteers, Jeri Saper, agreed to be video recorded demonstrating our CD burning procedure for Storybook.  WSP board member, David Graham recently recorded her and Sun Connor uploaded it to YouTube and made a link of the video. Click here
Whether or not you've ever burn CDs or serve as a laptop tech every time you make a prison visit, it's here for you. Save it to your computer so that you always have it. Enjoy the training!

---
May 2011 – The following article by Linda Cox details one volunteer's experience after volunteering with Women's Storybook Project.  The article can also be read  here as well as below.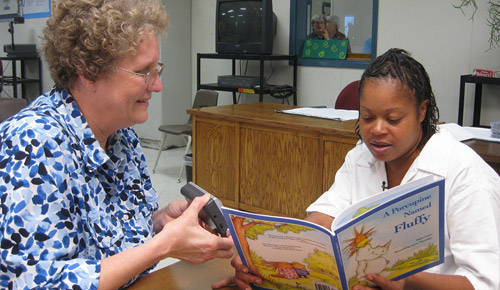 Volunteer Brenda Dykes, left, records a mother's, right, bedtime story to her child. Sandy Hain
By Linda Lee Cox
One sweltering day in August, I found myself sitting in the chapel at Lane Murray Prison in Gatesville, Texas, gazing at the mural covering the back wall. The scene of a vibrant garden, painted by a prisoner, invites the eye through an open gate into a sky exploding with light. I held a tape recorder and waited a moment as the offender, whom I'll call "Christina," opened her mouth as if she were ready to speak. She stopped, however, and her eyes welled with tears.
"I don't know if my son will like this book," she managed to say.
"I'm sure he'll love it," I replied. "And you know something? He'll be much more excited about hearing your voice than he will be with reading the book."
She wasn't convinced. "I haven't talked to him in seven years," she said. Her son Blake was a little over 7 years old.
"Christina, I've read many letters from children, and I believe this from the bottom of my heart: you are giving your son the greatest gift you can give him by being here today. He may not let you know how he feels for one reason or another, but there is no substitute for what you are giving him. You are the only one who can do this."
Christina pulled herself together long enough to read Love You Forever by Robert Munsch. After reading this classic book about the depth of a mother's love for her son and his love for her, we were both full of tears. Good, cleansing tears. We both thanked each other for making this happen for Blake, and she left to go mail the book and tape to her son.
What brought me to Gatesville on that Saturday and many others is the fact that Blake, like most children with incarcerated parents, is one of the most at-risk children in America. A child whose parent is incarcerated is six to nine times more likely to become incarcerated him/herself than a child whose parent is not incarcerated, according to the Children's Defense Fund's 2007 "America's Cradle to Prison Pipeline" report. Children like Blake are often born into a cycle of poverty, substance abuse and crime.
"I just want you all to know, no amount of counseling or progressive steps can compare with this wonderful project. Just to see my grandchildren's eyes light up, the smile on their faces, to hear Mommy's voice reading the storybook…."
I didn't ask Christina for her personal history, but I can imagine what that story might be from Blake's perspective. His household was very unstable — his mother is single and never finished high school. She earned less than $1,000 per month before she was arrested. They might even have been homeless during that last month. Blake and his brother and sister didn't really understand what was going on, but things got desperate. One day, someone came to tell them that their mother had been arrested. Suddenly, what little stability they had was stripped away, and, since there were no other relatives around to take them in, they became wards of the state. They've never been to visit Christina because they live hundreds of miles away, and their caregivers, who depend on public transportation, don't have the motivation or the money to travel to the prison. Blake was just a baby, but his older siblings were reeling from shock, humiliation, anger and depression. They all suffered from extreme separation anxiety. They may in fact be the most at-risk children in the United States.
This history of Blake and Christina is typical according to the 2008 Bureau of Justice Statistics "Parents in Prison and Their Minor Children" report.
A group of women have been quietly responding to this crisis through the Women's Storybook Project of Texas. Formed in 2003, the program helps incarcerated mothers do what mothers have always done to comfort and nurture their children — read their children bedtime stories, using the warmth and cadence of their own voices to reassure and encourage them from hundreds of miles away.
An interfaith effort
Ten years earlier, a small group of women from Lutheran Social Services in Chicago started Aunt Mary's Storybook Program. These women had the ostensibly simple idea of helping incarcerated parents read stories to their children on tape. Then the children could hear their absent parent's voice whenever they wished.
Judith Dullnig, a member of St. Mark's Episcopal Church in Austin, Texas, heard about the program and began to organize a similar program in Texas, which lays claim to the largest prison population in the Western world and some of the largest women's prisons in the country. But Ms. Dullnig found that while the program was simple in theory, it was difficult to implement. Setting up the program in Texas took almost a year of meetings and visits to the prison to build trust and iron out details. But Ms. Dullnig persevered, and with the support of her pastor, a very dedicated group of volunteers and sympathetic wardens, the Women's Storybook Project of Texas was launched. Seven years later, the program operates in women's correctional institutions in Houston and in four of the five women's facilities in Gatesville — and it continues to expand to other locations in Texas.
The program was truly an interfaith effort. The Texas Baptist Women's Convention donated more than 800 books, tapes, and mailers to get the project started. A large group of volunteers emerged from the Jewish community through Temple Beth Shalom in Austin. From there, word of the program made its way to Westlake United Methodist Church in Austin through Mary Lou Batlan, a United Methodist Women member who had ties to both congregations.
United Methodist Women at Westlake United Methodist Church excelled at fellowship and had several events planned throughout the year that brought the church's women together for meals, work on spiritual formation and to raise Mission Giving funds, but unit members wanted to engage in a hands-on mission effort. Ms. Batlan and I hoped that this program could draw our church's various United Methodist Women circles together for hands-on service with a sense of purpose — and adhere to what would later become our church's mission statement of "Following One, Serving All."
In 2008, with the blessing of our church's senior pastor, the Rev. Lynn Barton, the first group of Westlake United Methodist Women piled into my van, picked up some women from other churches and synagogues, and traveled to Gatesville, a town in central Texas that's home to five women's prisons and one men's prison.
When we arrived at the Lane Murray facility, the "offenders," as they're called, were allowed to select one new book per child, and then we helped them record an encouraging message and read the book to the child. The book, signed with a loving inscription, and the tape were then sent to each child. The women in the facility were allowed to do this with other volunteer groups for four consecutive months to provide some consistency for the child. Often, this is the only gift a child will receive from his or her mother and the only time the child will hear his or her mother's voice.
The responses to these gifts were overwhelming. They and their caregivers were asked to send letters at the end of the four-week program to let the Women's Storybook Project know what they thought. One grandmother wrote:
"I just want you all to know, no amount of counseling or progressive steps can compare with this wonderful project. Just to see my grandchildren's eyes light up, the smile on their faces, to hear Mommy's voice reading the storybook. This book is so awesome. The whole project is so dynamic, and I want you to know, from my point of view, this is a blessing for my grandchildren. If you can only imagine how happy these two boys were to receive this gift. …They came to us like showers of blessings. My boys listen to Mommy's voice every night before they go to bed. It gives something to hold on to. Thank you."
Many children carry their tapes with them to school and listen whenever they feel lonely or need encouragement. The mothers express their love on the tapes and also encourage their children to read the book on their own, often telling them how much they enjoy reading themselves. After their release, mothers in the Houston area have reported taking their children to local libraries. The Women's Storybook Project is currently developing research studies with Rice University to measure the incarceration rate among the children of offenders as they mature. But no parent needs a statistic to tell them that connecting a mother with her child is beneficial to the child. The project made such connections 2,292 times in 2009.
Multiple benefits
While the program is designed to care for the needs of the child, it has some unexpected fringe benefits too. First, the women benefit by participating. As soon as we arrive, volunteers and offenders form a mixed circle, and the incarcerated women are encouraged to feel a part of a community of women and mothers supporting their growth as parents. They are always extremely thankful to be able to participate, and they have an accepting place to reveal their deep emotional ties to their children.
Many prison ministries and programs have the laudable goal of helping offenders improve something about themselves; however, the Women's Storybook Project simply gives the mothers the opportunity to have a positive impact on the world through their children. This leads to greater self-esteem among the women as they find that they have something tangible — and intangible — to offer their children.
While the program doesn't try to improve offender behavior, it is nonetheless tremendously effective at doing so. Women must complete a parenting course and be on "good behavior" to participate, and, as a result, behavior has improved in the facilities implementing the program.
Many criminal justice leaders and administrators are beginning to recognize the Women's Storybook Project for its service to the community. The National Crime Prevention Council recognized the project as one of its "Collection of Effective Programs," and the Women's Storybook Project recently received a prestigious Governor's Criminal Justice Award. But the highest praise in my book comes from Nancy Botkin, who worked for 10 years as a senior warden at a women's facility in Gatesville before retiring. She stated, "In my 24 years of service with [the Texas Department of Criminal Justice], this is by far the most organized, most efficient and most effective volunteer program that I have ever seen."
A final benefit, as the Westlake Uni-ted Methodist Women can attest, is that the Women's Storybook Project is a blessing to its volunteers. We started with three volunteers the first year and now have more than 25 women either volunteering or in the process of being trained. We spend a day together every two months meeting women from other houses of faith and interacting in a positive, uplifting way with women from all ages and walks of life. Volunteers on a typical visit can range from age 25 to 85, and they work directly with offenders who might come from anywhere in the United States. We come home after each visit feeling tremendously blessed by having helped connect mothers and children. On our two-hour van rides, we have gotten to know one another well and feel like a true community of women serving God by connecting vulnerable children and their mothers.
The United Methodist Church also continues to support and encourage our efforts. We are happy to receive funding from the United Methodist Church at all levels, including our church's service committee, the Austin District's Juanita Peterson Fund and recently a Peace with Justice Grant from the General Board of Church and Society.
The Women's Storybook Project is a simple idea: women reading bedtime stories to their children. But this interfaith, intergenerational program has an enormous impact on the children, the parents and the community. Through the Women's Storybook Project, Blake and Christina have a chance at a better education and a more productive and fulfilling life than the statistics would suggest.
Linda Lee Cox, Ph.D., is a member of United Methodist Women at Westlake United Methodist Church in Austin, Texas, and serves as her unit's liaison to the Women's Storybook Project of Texas. Ms. Cox is an adjunct associate professor of philosophy at Austin Community College.
**This article is reproduced with the permission from Response: The Magazine of Women in Mission (March 2011)