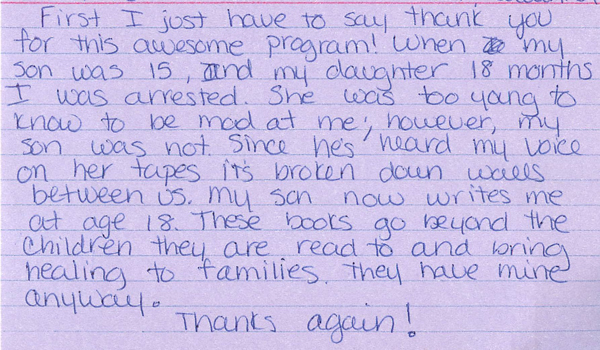 Stories about WSP from incarcerated moms.
A lot of women here get cases and get into trouble because they know that here in State Jail, you have a date to go home that won't change.  This program is a major incentive for me to reach out to my children and give back to them even from prison.  I don't have not one case the entire time I've been here and it is because of the Storybook project. Thank you all so much!
We really need love. Thanks for helping us be better mothers to our children.  So many have just written us off.
My son doesn't need any material things.  He has a lot of things. It was his birthday, and the tape got there about the same time. He said the cassette tape was the best birthday present he got. He can listen to it any time.
It was so good to be able to say, "I love you". He listened to the tape 12 times.
Somebody cares for us. It gives us strength. You are trying to help us be better moms.
We're proud we are able to be in this program.  We had to earn it.
Sweet notes written inside the book for their children.
I love you, Michael!! This book is for you to read and list to when you want to hear mommy!!! I miss you baby!  I'll be home as soon as I can!! xxooxxoo Mama
I wish I could spend more time with you, but I hope that this will help you feel closer to me until I get home.