Women's Storybook Project of Texas is a non-profit, interfaith program that connects children with their incarcerated mothers through literature. Volunteers travel to Texas female prisons to record offenders as they read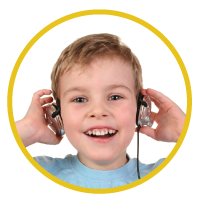 stories to their children. The mothers also give short messages and the cds and new books are then mailed to children.  This gives them  a chance to hear their mothers' voices while the mothers are away.
It is a simple idea with a big impact!  The children are connecting with their mothers through listening and reading good children's literature.  The mothers' self-esteem increases because they know that they are doing something positive for their children. Since participation in the program is earned by good behavior for 90 days, the behavior at the prisons has improved.
One of the long term goals of Women's Storybook Project is to help decrease the rate of ricividism. Connecting the children and mothers would prevent the mothers from returning to prison. Another goal is to prevent incarceration of the children whose parents have been in prison.  This is a very high statistic.
A letter from Cameron illustrates the impact of Women's Storybook Project:
Dear Whoever gets this note, please let my [mom], Gina,

keep reading the books on tape, one more thing:

I love hearing her voice."