Our Mission
Connecting children with their incarcerated moms through the joy of literature.
Women's Storybook Project (WSP) of Texas is a special program that helps incarcerated mothers do what moms have always done to comfort and nurture their children—read them bedtime stories, using their own voices to love, reassure, and encourage them from miles away.
WSP volunteers visit women's prisons in Central and East Texas once a month to record mothers reading books aloud to their children. We then mail the books and CD recordings to the children, who live all over the United States.
Watch the "The STORY of Storybook" video to learn how Women's Storybook Project volunteers are transforming the lives of incarcerated women, their children and caregivers.
ICYMI: Here's a video of the WFAA News 8 Dallas segment that aired Monday, May 7, 2018!
Donating Your Dollars: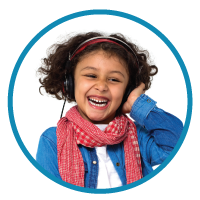 $20 covers the cost of our signature book, The Invisible String by Patrice Karst and cd
$40 will cover the costs of new books, CDs, mailing envelopes, and postage for packages for two children
$50 will pay for gas for one month for volunteers to travel to prison facilities
$100 will purchase eight digital devices used to record mothers reading books
No amount is too small to have a big impact!
(2017 Stats)

Special thanks to USAHS!

Special thanks to the Student Occupational Therapy Association (SOTA) at the University of St Augustine for Health Sciences (USAHS) for their Valentine's Day fundraiser...

Thank you Westlake UMC!

Westlake UMC Youth volunteered with Storybook getting books ready for incarcerated moms to read to their children. Thanks for your help! #kidshelpingkids #storybookproject...

Help Us Amplify WSP!

Dear WSP Supporters, By now you are familiar with Amplify Austin's ability to raise substantial money for nonprofits big and small. Times are changing! Do you have a CD...